I'm really honored to be featuring Andrew Grant-Thomas in this installment of "parents who inspire." Andrew is the co-founder of EmbraceRace, a non-profit and online community of discussion and practice around caring for and raising kids in the context of race, alongside his partner Melissa Giraud, whom I had the pleasure of interviewing over the summer.
When Melissa was featured, our country was reeling after the deaths of Philando Castille and Alton Sterling. Now, our country is reeling following the election of Donald Trump. I'm so very thankful to again be able to lift up the work of EmbraceRace in a moment when morale is low and folks, myself included, need a dose of inspiration and the reminder that there are many people and organizations who have long been fighting against injustice and will continue to do so.
EmbraceRace is doing incredible work on behalf of the most marginalized amongst us. They produce thoughtfully written articles on their Medium publication that center the experiences of people of color; they post ground-breaking media on their Facebook page;  and they will soon be launching a monthly webinar series for parents.
If it's not already obvious, I'm a definite EmbraceRace fan-girl. Can't wait for you to hear more from Andrew himself and be inspired!
Tell us a little about yourself: 
I'm a dad to Lola and Lena, a partner to Melissa, a son, a friend, a social justice worker and long-time racial justice guy, a black man of Jamaican origins in the United States, born on the 4th of July.
I have good friends, decent health, two lovely, healthy girls, a wonderful partner, and nice degrees from elite institutions. Most members of my family live solidly middle class lives at a time when fewer and fewer people can claim that. I've been able to do work meaningful to me for a long time and do it alongside good people whose examples inspire me.
With reference to all I've seen, learned, and experienced about the diverse ways people live their lives in the United States and elsewhere, I understand myself to be an enormously privileged human being. The depth and breadth of my privilege was never more apparent than during my recovery from a serious illness a few years ago. I touch on that here.
As a parent, what's your favorite part about living in your city?
One thing I love about life here in Western Massachusetts is that very little about the community adds stress to our lives. We've lived in Boston, Chicago, in Washington DC – major cities, hi-stress places: traffic jams, horns blaring, sirens, hard-charging people. Full of insular sub-communities with hard-to-penetrate boundaries (though I'd say Chicago isn't quite as closed-off as Boston or DC).
Amherst is a relatively friendly, easy-going place. Melissa and I work from home many days, and our girls' school is literally on the other side of our fence. My time is pretty flexible, so I can walk with the girls to school in the morning, chat with their teachers, be there when they come home, cook dinner sometimes. I rarely did any of that when I had a 9-to-5.
The people who come to our house – the guy who came to fix a gas leak, the firefighters who responded when our alarm wouldn't go off, the roofer – just nice people! Neighbors are warm and friendly, but not intrusive. It's not perfect, but it's ridiculously great, to be honest!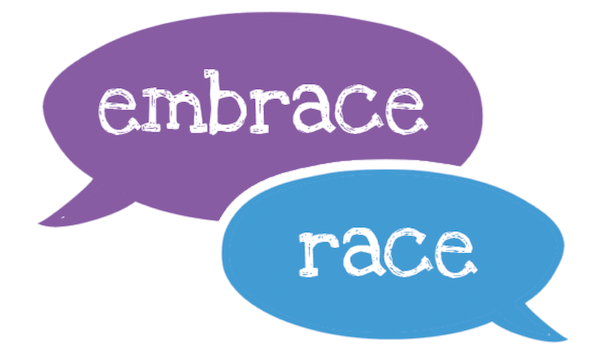 What are your passion projects or in what ways do you engage with your local or national community?
My big project and adventure is EmbraceRace. EmbraceRace is a multiracial community of support for parents, teachers and other adults to help us nurture kids able to navigate the often-rough terrain of race in more than less healthy ways.
"Colorblindness" (see-no-race) and "colormuteness" (don't-talk-race) haven't worked out so well! The last two years (finally) have seen widespread attention to wanton police disregard for black, brown and Native lives. We're coming off a year and more of a Trump campaign grounded in utter disdain and disregard for the well-being of women, undocumented immigrants, Muslims, LGBTQ and disabled folks, and people of color.
When I see the "triumph" of that campaign – not "in spite of" but largely because of his explicit "othering" of all these people and their identities – I start to think even more about how EmbraceRace can play a part in turning all this around. That means creating a culture, led by those people we call "our kids," where the Islamophobia, racism, misogyny, and xenophobia so many people now freely express truly becomes intolerable to all. Movement work.
How do we do that? Taking a peek at our main platforms will give you a solid sense of what we're about: And, yeah, I gotta say it:
Sign up for our bimonthly newsletter! (You'll never believe #5…!!! Just kidding.)
If anyone wants more info about what we're up to, drop me a line at Andrew@embraceRace.org.
What's your favorite part of your civic engagement activities?
Trying to build a true, and truly diverse, community of people to do the crucial work of helping kids navigate race, and guiding the work with my partner, Melissa, is definitely stretching me. I love it.
Another major plus is all the wonderful people who've been drawn to EmbraceRace and to whom I and we have been drawn (like A Striving Parent's own Shannon Cofrin Gaggero – WOOT!). It really is like having a kid in that respect. You become a parent, and once your kid is old enough to make friends, most of your new friends are the parents of the kids your daughter or son wants to hang out with. You might never have sought out some of those folks as friends otherwise, but now your life is the richer for knowing them.
Finally, I love the excitement of thinking that EmbraceRace will be whatever we collectively make it and wondering what that'll be. So, for example, right now, we have a crowdfunder up – last day is Friday, November 18th. It's to fund a monthly series of workshops next year for parents, teachers and other caring adults on crucial issues at the intersection of race and kids.
If enough people agree that it's worth funding, we'll do it. If not, we won't. Of course, it's not quite that simple, but there's something profoundly democratic about that. (Editors note: EmbraceRace hit their fundraising goal so this project WILL happen. Hooray!)
What inspires you to engage in these activities?
I've been doing racial justice work for a long time as a researcher and advocate. I've learned, beyond a shadow of a doubt, that race is deeply implicated in so much – from what kinds of social policies we prefer to who our Facebook friends are to what our national politics looks like.
I know that in myriad ways the most fortunate people in this country have built their good fortune largely on the backs of the least fortunate, just as the United States has built its cultural, economic and military preeminence largely on the backs of people outside our borders. Think about the fact that the average S&P 500 company CEO made 373 times the salary of the average production and non-supervisory worker in 2014, up from 331 times in 2013, according to the AFL-CIO. 373 TIMES! WTF?!  Let's be really clear: That's the difference between making $20,000 and making $7,460,000. There's absolutely nothing "natural" or "given" about sharing the pie so lopsidedly. It's laughable that Donald Trump talks about "rigged" systems. Yes, but rigged altogether in favor of people like Donald Trump!
(Which is one reason I have such a problem with the national debate about US immigration. Yes, countries should be able to control their borders. But any debate about immigration that doesn't center questions about why goods flow so much more easily across borders than people, doesn't dig deeply into why some people – rational people! – feel compelled to risk their lives to come into the US, and how US policies and practices are implicated in all that… that debate is a sham.)
Knowing what I know, and the examples of people everywhere I look doing heroic work to push back against injustice, racial and otherwise, it would be obscene for me not to lend my effort to that struggle.
Any words of wisdom for parents wanting to create space for civic engagement in their own busy lives?
Listen, let's not kid ourselves: whether through our words and silences, our actions or passivity, we influence dynamics and outcomes in our homes, our families and social networks, our communities, our country. Feeling sad about injustices in the world does nothing – except possibly make us feel virtuous – if we don't also find ways to make our concerns and convictions manifest in the world.
Above all, if you're a parent, remember that for better or worse you're a role model to your children and what they see you do is generally much more significant that what they hear you say. One of the biggest gifts we can provide our kids is the gift of belief in their power to effect change in the world, rather than as simply being subject to whatever the world has to offer.
Your charge isn't to do EVERYthing. It's to do SOMEthing.
Do something.

****************************
A million times, YES. I appreciate Andrew's words so much, especially as I've struggled with how to move forward after this election. I've been feeling overwhelmed and pulled in many different directions.
EmbraceRace offers much needed community and support to parents who want to raise their children to be advocates. Now, perhaps more than ever, I have an obligation as a parent to educate myself on how to do better, not just for my children, but for all children. EmbraceRace helps me traverse this path.
I'm so very thankful to have met Andrew and to follow and support EmbraceRace. I strongly encourage everyone to join the conversations they are generating and to share their work with other parents who are wondering "what can I do?" in this moment in history. Andrew, Melissa and the entire EmbraceRace team inspire me to fight harder than ever before against racial and social injustice. We truly are stronger together.
You inspire me, Andrew! Thank you.